How to install and sync SaaSphalt with QuickBooks Desktop
In most scenarios, connecting your Method account to a QuickBooks Desktop file takes 15-30 mins. Follow the detailed steps in this article or watch the installation video to learn how.
Before you start
Before you get started using SaaSphalt with your QuickBooks Desktop, you'll need to ensure you are ready with all the following items below:
Your QuickBooks Desktop file (on windows)
Permission to install on Windows

Method does not officially support running the Desktop Synchronization Engine on Windows XP. Older versions of the Desktop Engine may work with XP however use these at your own risk. They are not supported and you may experience issues.

QuickBooks Admin permissions (for initial sync only)
Your SaaSphalt Account details
Step 1: Sign Up with SaaSphalt
At this point, you should be signed up and waiting for the sync. If you do not have an account, please sign up for a trial.
Step 2: Download Sync Engine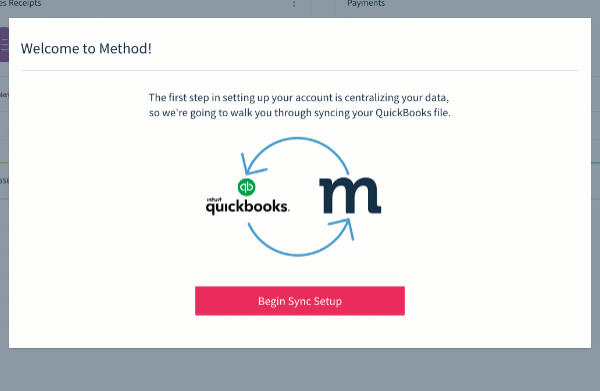 Click Begin Sync Setup.
Click QuickBooks is on this computer..

If QuickBooks is not currently on the computer you are on, you will need to continue this installation from the computer which has QuickBooks and the correct QuickBooks file.

Click Download Method Sync to download the installer to your computer. Remember where it was downloaded to.
Step 3: Open QuickBooks
Open your QuickBooks Desktop to the company file you wish to sync. You will need Admin access for this QuickBooks file. If you are not the person who will be installing the sync engine, please see Additional computers with QuickBooks to email the instructions to someone else.
Choose the correct company file. If you sync the wrong QuickBooks file, it cannot be undone.
Step 4: Install
Click the downloaded file (MethodSyncInstaller.exe) to launch the installer.
Follow the onscreen instructions to install the Method Sync Engine.
Eventually you will need to confirm the details of your authentication.
In order for these steps to work correctly, you must be running Windows on a PC or a virtual desktop program like Parallels, with QuickBooks installed. Mac with Parallels is ok too
Step 5: Connect
Once the install is complete, the following application certificate will pop up.
Make sure you choose "Yes, always; allow access even if QuickBooks is not running" and click Continue> Done to start your Method sync!

If you accidentally click something else, you can change these settings later from within QuickBooks under the "Integrated Apps Settings" section.

And now your sync is underway! To see the status of your sync, find the Method Logo in your task bar, right-click it, and select Display.

Your first sync may take a while depending on the size of your QuickBooks file. When it's complete the Method PUSH status will read connected and turn green.

When you return to your browser, you will be taken into Method!

You may see a second QuickBooks Application Certificate pop up, similar to the one in Step 5.1. This one is to authorize the Method Integration Engine Listener. Please allow the same access as you did previously for this certificate.
Additional computers with QuickBooks
To ensure a real-time sync between SaaSphalt and QuickBooks, the Method sync engine should be installed on each additional computer accessing the QuickBooks desktop file.
However, an Authorization code is needed when installing the engine..
Sending the email will include the download link and the authorization code for the sync. To send an email, follow these steps:
Select the gear in the upper right corner and then select Preferences.
Follow the navigation path: QuickBooks > Troubleshooting > Instructions to setup sync on a new desktop.
Click Email Instructions.
Put the email of the person you wish to send the email to and click Send.
The email they get will contain a link to a website. When they click on that link, they will be taken to this page:

They must select Generate One to copy the Authorization Code into your clipboard.
With the installer downloaded, install the Method Sync Engine and then continue above from Step 5 - Connect.
Once complete, you will need to repeat the above steps for each computer that accesses the QuickBooks file. A few more notes:
The additional sync engine will show a status of "OnDemand from desktop only mode". This is normal.
The additional installations are responsible for listening to changes happening within QuickBooks and sending that data to SaaSphalt. This does not replace the main sync engine on the main computer.
If a computer accessing the QuickBooks file does not have the Method sync engine installed, changes in data may be delayed until the next scheduled changes only sync occurs.