Job Items are the labor and material items that makeup each job. To create accurate estimates, you first need to populate your Job Item list with the labor and material items your company uses and their corresponding costs.
To access the Job Items List, click the more options menu on the Job Templates app tile and select Job Items.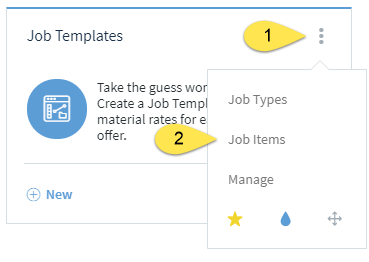 Click the New Job Item link.

Enter the job item name, type and cost. The cost should be the "all-in" cost to the company. For a labor item you would likely included the direct labor cost as well as the company's portion of taxes and any overhead recovery allocation.
Repeat this process for all the items that are used to create a job.