Once your user has been invited and the administrator has set up the user's settings, the user will have access to his or her own profile, where several other options are available to them. These options can be accessed by clicking the Blue Circle icon on their dashboard and choosing User Profile.
The user preferences are divided into four sections: Profile, Display, Email and Notifications. Let's look at each one in detail below.
Some of these settings can also be accessed by the administrator in the
Users
section. Please see
Editing user settings
for more details.
Profile
The profile settings are divided into three sub-sections.
Personal Settings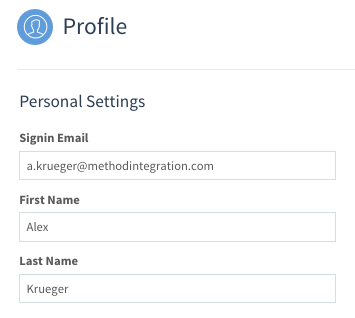 Sign in email: The email the user uses to sign into SaaSphalt.
First name: The user's first name.
Last name: The user's last name.
The first name and last name do not correspond to this user's User Name which appears throughout SaaSphalt. Only an administrator may change a User Name.
Change Password
To change a password, input the current password, then choose and confirm a new password.
SaaSphalt requires that a password contain both upper-case and lower-case letters, a numeral, and one unique character (like ! or *).
Connected Accounts
This section shows you whether your Google and/or Intuit accounts are connected to your SaaSphalt account. Connecting these accounts allows you to sign in with your Google or Intuit credentials. To connect these accounts, please see:
Click Save to save these changes.